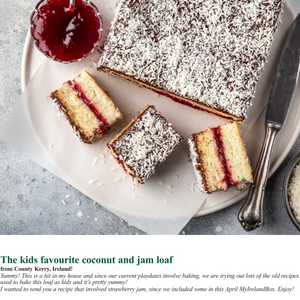 The kids favourite coconut and jam loaf is a hit in my house and since our current playdates involve baking, we are trying out lots of the old recipes. We used to bake this loaf as kids and it's pretty yummy!
MyIrelandBox members have been showing off their baking skills on the Facebook group, and their pictures of this delicious dessert are amazing! 
This recipe was a perfect fit with our April MyIrelandBox as it involved strawberry jam.m, also available to buy on this store!
Enjoy!