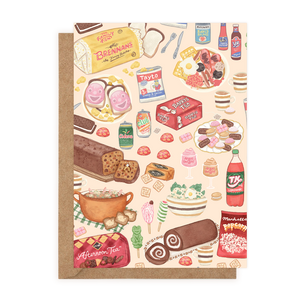 I have always wanted to work with Rachel Corcoran, and I think her drawings are lovely and whimsical, whilst at the same time representing Ireland so well. This card depicts the typical Irish pantry (or at least what we would like to have in it – the Brennans Bread sliced pan, taytos, the full Irish breakfast, the TK red lemonade, barm brack (recipe below), swiss roll, the tin of biscuits and so on!
Card is A6 size (4.2 × 5.8") and blank inside for your own special message. Printed on beautiful FSC-certified cream card, with an accompanying 100% recycled kraft envelope. Rachel's designs are more than just greeting cards, and can be cleverly framed and cherished as miniature thoughtful prints after the celebration.
Thoughtfully made in Dublin, Ireland.