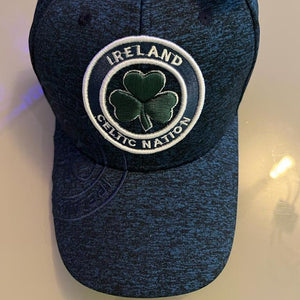 *only navy in stock! Green sold out
We included this great baseball cap in the July 'Summer in Dublin' MyIrelandBox! Here's what I wrote in my booklet about it and why it was chosen as one of the July surprises:
'The cap that you receive was a thought born from recent visits to Dublin when I saw so many people wearing them around the city! They seemed to be a sign for locals and tourists alike to declare that 'I love Ireland' whilst shielding themselves from the summer sun and looking all around them at Dublin's delights. So, I thought that you would like this one. We seem to wear baseball caps a lot in this house too during the summer. So pop on your cap, and come and explore Dublin with us!
Anthony from Allied – a business that has so many lovely Irish treasures that I cannot resist at times, frequently comes to Dingle and we sit together and chat about what visitors to Ireland love to take home with them and what MyIrelandBox members want in their MyIrelandBoxes. I keep strictly on the path of wearables, consumables, homeware…and many other items that are useable and that I know you will love. A baseball cap was always on my list – we have quite a few accumulated in this house and from recent trips to Dublin, I see so many people …and the tourists …wearing them. These baseballs caps are one of the biggest sellers in Dublin at the moment, and I am delighted that I ordered them to be made for you. So,pop it on and let's be tourists on this day as we celebrate Dublin and visit EPIC and Guinness and The Books of Kells, learn about its history and eat the delicious treats it offers us! This is also a cap that you should wear to show how much you love Ireland as you go about your day!'