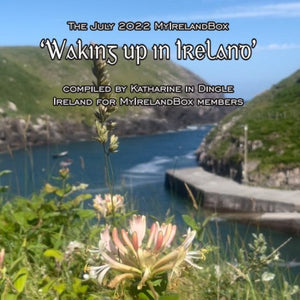 Katharine's booklet:
Within each booklet that I write (they are normally over 20pages long!) I really bring everyone that reads it to Ireland! In this instance, we took a trip to the beautiful Brandon Creek and as we walked down the country pat that leads to the little pier – I told everyone about the story of St Brendan leaving the creek to journey to America. It is such an interesting story! We learned all about the wildflowers, learned some Gaelic throughout the booklet and members are now knowledgeable about the ancient traditions in Ireland on that month. We met the makers and learned all about the Booley season! A treasure trove of information and knowledge about Ireland during the month of July and I loved writing about it.
Of course, we also gave little hints as to what's up next!